eLFA Community Outreach Award
26/05/2021 | By: Unilearn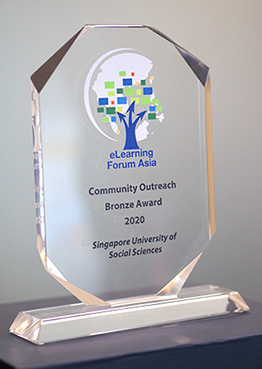 SUSS UniLEARN is an e-learning initiative by the University for the community that sees SUSS collaborating with various community partners to co-develop and offer short online courses focused on social concerns in our society to the public, volunteers and those who work in related fields. The aim is to evoke in our learners greater empathy for the disadvantaged and a desire to bring about positive change.
In recognition of SUSS UniLEARN's effort and contribution that have impacted more than 6,000 learners since it was launched in July 2018, SUSS was presented with the eLearning Forum Asia (eLFA) Community Outreach Award (Bronze) in December 2020.
The eLFA Community Outreach Award, which seeks to recognise organisations and individuals demonstrating unwavering passion with their outreach to the less fortunate and disadvantaged through the use of technology and community services to improve the quality of education, reaffirms SUSS's vision as the leading university for social good.
Source: https://www.suss.edu.sg/partnerships/success-newsletter/issue-2/elfa-community-outreach-award-for-suss
About the Author
Unilearn