SUSS UniLEARN Forum 2022: Leading e-Learning for Social Good
01/04/2022 | By: UniLEARN
The global pandemic has impacted our personal and professional lives but it also highlighted the important role and positive impact that e-learning can play in exceptional as much as in normal circumstances.
By the engaging learning experience that it provides to the community, e-learning can also further the cause for social good and significantly contribute to the Care Economy.
Themed 'Leading e-Learning for Social Good', the second SUSS UniLEARN Forum brought together community partners and social service organisations to share their e-learning development experiences, insights and best practices.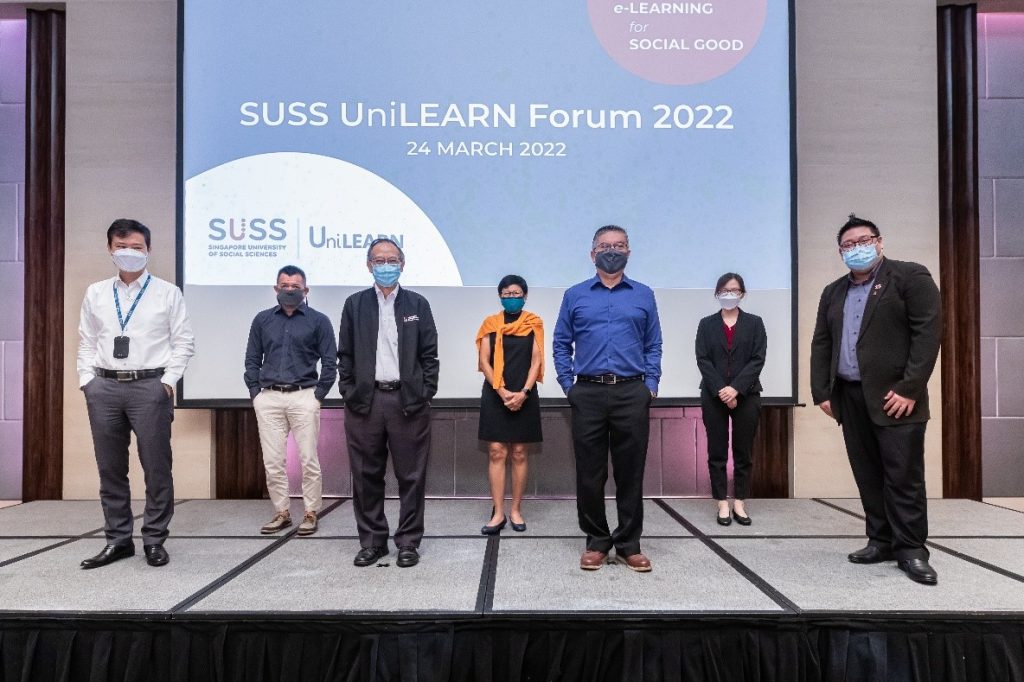 Front row (left to right): Associate Professor Lee Wee Leong, Vice President, Learning Services; Professor Cheong Hee Kiat, SUSS President; Professor Robbie Goh, Provost; and Mr Ambrose Lee, Acting Head of Department, Head of Centre for First Aid & Life Support, Singapore Red Cross.
Back row (left to right): Mr James Ong, Deaf Access Manager, The Singapore Association for the Deaf; Ms Ang Bee Lian, Director-General of Social Welfare, Ministry of Social and Family Development; and Ms Wong Chew Wee, Head, National Silver Academy, Council for Third Age.
Held on the 24th of March 2022 at the Carlton Hotel, the full-day event saw a line-up of nine internal and external speakers who shared with a very attentive audience their insights and enriching experiences with e-learning.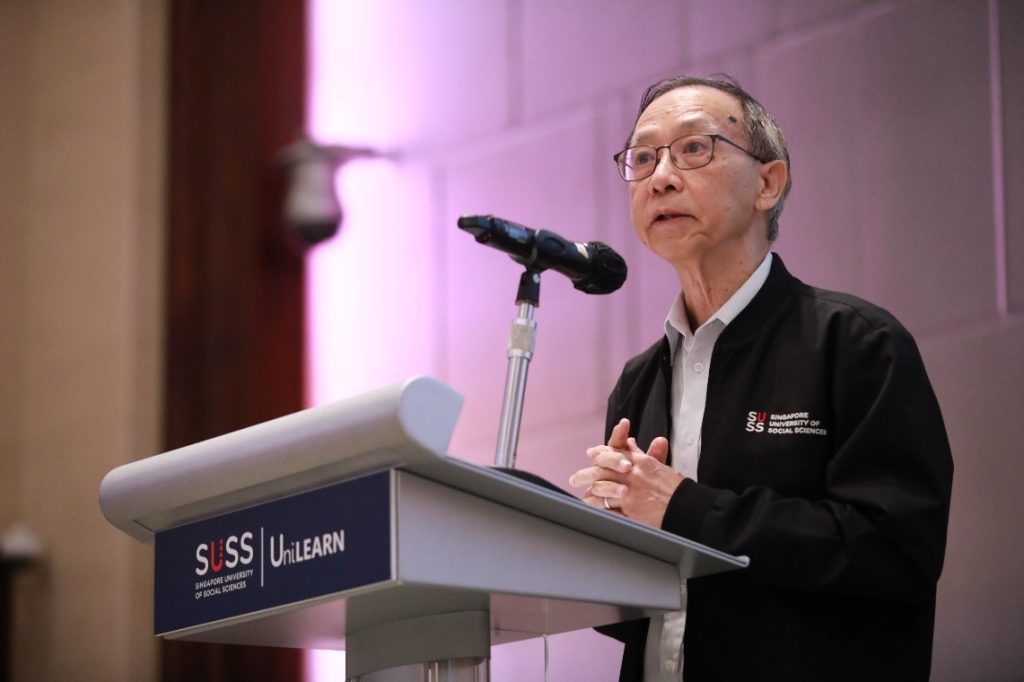 Professor Cheong Hee Kiat, SUSS President, addressing the participants at the SUSS UniLearn Forum 2022.
Professor Cheong Hee Kiat, SUSS President, opened the Forum by thanking partners for their steadfast support: "Today, I am gratified to note that we have 17 social partners and have developed 50 social courses on our UniLEARN platform. Over 20,000 learners have also benefitted from our customisable short online courses, acquiring the knowledge to understand, manage and address the various social issues confronting society today. UniLEARN is thus establishing a niche role in providing a one-stop convenient training and networking platform for the social services sector. We hope more partners will join in this endeavour."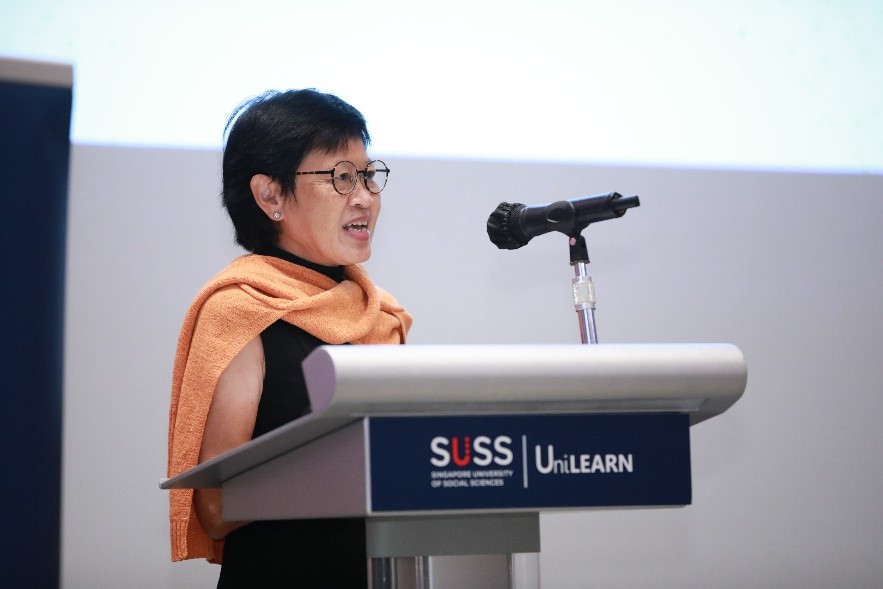 Ms Ang Bee Lian, Director-General of Social Welfare, Ministry of Social and Family Development, presenting her keynote speech at the SUSS UniLearn Forum 2022.
Ms Ang Bee Lian, Director-General of Social Welfare, Ministry of Social and Family Development, who was the keynote speaker for the Forum, provided an overview of the social sector's education efforts to reach out to and engage their target learners as well as the challenges faced by social organisations, course providers and learners especially in light of the pandemic.
The topics presented in the morning were focused on the digitisation landscape and opportunities for e-learning in the social sector, while the afternoon sessions were centered on the topic of micro-learning. One presentation focused on the benefits of micro-learning for busy learners who can easily pick up useful skills and knowledge on-the-go. Two others shared case studies of successful micro-learning courses developed by UniLEARN with our partners. The forum ended with a 90-minute, hands-on workshop explaining to participants how to structure and develop content for bite-sized learning.
With a turnout rate of 98%, the event was very well attended.  For many, this was the first physical event that they attended since the beginning of the pandemic so they truly appreciated the opportunity that the Forum provided to meet one another in person and make new connections while, of course, respecting all the social distancing rules that had to be observed. The Forum participants also provided very positive feedback on both the content of the various presentations as well as on their quality and engagement of their delivery.
"On behalf of my colleagues, the forum provided us an opportunity to capture what is the current development of UniLEARN, and the plans moving forward. Also, insight and value-added information shared by the respective speakers motivate us on how e-learning and technologies can be delivered to shape the thinking and doing in the Social Services Community" said Mr Ong Eng Kai, Manager (THinK Institute), Thye Hua Kwan Moral Charities.
Commenting on the feedback received, A/P Gabriel Gervais, Director, Online Learning said: "We are truly happy that our guests enjoyed the event and found it engaging. We look forward to organizing many other events in the future so as to provide even more opportunities for dialogue and e-learning collaboration among all partners and stakeholders in the social good space."
About the Author
UniLEARN